Gallery News
from top left to bottom right: Andre Benoit, Debrah Jellison, Kathleen Perelka, Mattie Rose Templeton, Stephanie Crossman, Wendy Newcomb
Join Archipelago as we unveil the final gallery show of 2022! This show, Natural Impressions, is an ode to the beauty of the natural world of Maine, bringing together artists Deborah Jellison, Mattie Rose Templeton, Wendy Newcomb, Stephanie Crossman, Andre Benoit and Kathleen Perelka.
The show will run through the end of the year. Interested in purchasing artwork from the show? Find the show collection here. More information about each artist is below!
Deborah Jellison:
Deborah Jellison is a mixed media artist raised in northern Maine and currently residing in the midcoast region of the state. She earned her BFA in art education from the University of Maine, and an MFA in Visual Arts from the Vermont College of Fine Arts. Inspired by the wooded landscapes and rocky coastline of her home Deborah's work most often references the natural environment – the patterns of barren trees pressing against a winter's sky or fractals formed in the ice on the forest floor.
As a life-long learner, Deborah is inspired by each new technique and material that she discovers. Many are incorporated into her practice creating a diverse range of styles and subject matter. By overlapping gold, texture, and pattern over landscape or figure she tells lush visual stories from an ever-evolving personal mythology.
Mattie Rose Templeton:
Mattie Rose Templeton is inspired by the living and natural world that surrounds us all. Through art, she explores our connection to nature, including the undeniable fragility that is found there. And the importance for us to protect it. Art, since the beginning, has been a way to record history through visual storytelling. Mattie Rose attempts to produce art that moves the viewer beyond the piece itself, and into that storytelling place.
Using an "old fashioned" ink well, with variously-sized nibs, Mattie Rose is able to add different texture and line. She often avoids using color, because she finds the contrast of black and white more dramatic. While the subject matter of her work is based in realism, there is a conceptual quality added through geometric shapes and patterns.
Wendy Newcomb:
Wendy is a representational painter from Sebago, Maine whose primary mediums include oil, gouache and acrylic.
"My paintings represent a visual journal of my life in Maine, reflecting my love of Nature and my participation in it. The subjects I choose to paint are usually found in the inland and coastal landscapes near where I live, in both Sebago and my summer home on Vinalhaven . A recurring theme in my work is the way in which light falls upon objects and water, creating different patterns and reflections within the context of the composition. I prefer late afternoon light for its golden hues and long shadows or early morning as the sun just begins to reach the earth in its early ascent. My intent is to give the viewer a sense of "place"- of being there with me; participating in the experience of Nature."
Wendy A. Newcomb is a representational painter whose primary mediums include oil, gouache and acrylic.
Stephanie Crossman:
"Traditional knotted netting is an ancient skill that I have taken to a contemporary end. I use the same knot & tools as the fishermen, only on a smaller scale. My husband's great-grandmother taught me the technique when she was 92 years old. My designs are original & handmade. I shape & stiffen the tiny nets into a 3-dimensional art forms. This innovation sets my work apart. They are displayed in shadowboxes & domes."
Andre Benoit:
"My intent as a abstract assemblist sculptor is to represent the human form and iconic motifs with repurposed wooden remnants. The origin of the components of my constructs is from a myriad of sources and environments where the workmanship of hand or machine and exposure to the out of doors or ocean has created contours and patina respectively that catch the eye and entertain and maintain the interest of the viewer as often do the stories of acquisition of requisite wooden material. My use of pigment is sparing in degree to prevent its domination of the overall impression and not to obscure the beauty of the surface of the wood I embrace the concept of Wabi Sabi with the intentional use of asymmetry and a somewhat unfinished appearance to capture the spontaneity and enhance the overall impression of my work."
Kathleen Perelka:
"I am working to capture the vanishing Maine landscape through my pastels. The open fields of hay, corn and other crops with just a hint of human occupation in the distance remind me of my childhood in central Maine. I look to capture the light reflecting off the trees, hay bales, distant metal roofs, and blades of grass.
I love the vibrant red blueberry fields in October, the marshes and bogs and other somewhat hidden and under-explored places. I look for the blues and lavenders in the snow in winter; the golds and the greens in summer.
My pastel paintings are bright. My style is impressionistic. I don't strive to capture every little detail. Instead, I am looking to capture the essence of a place, a time of year or a time of day."
---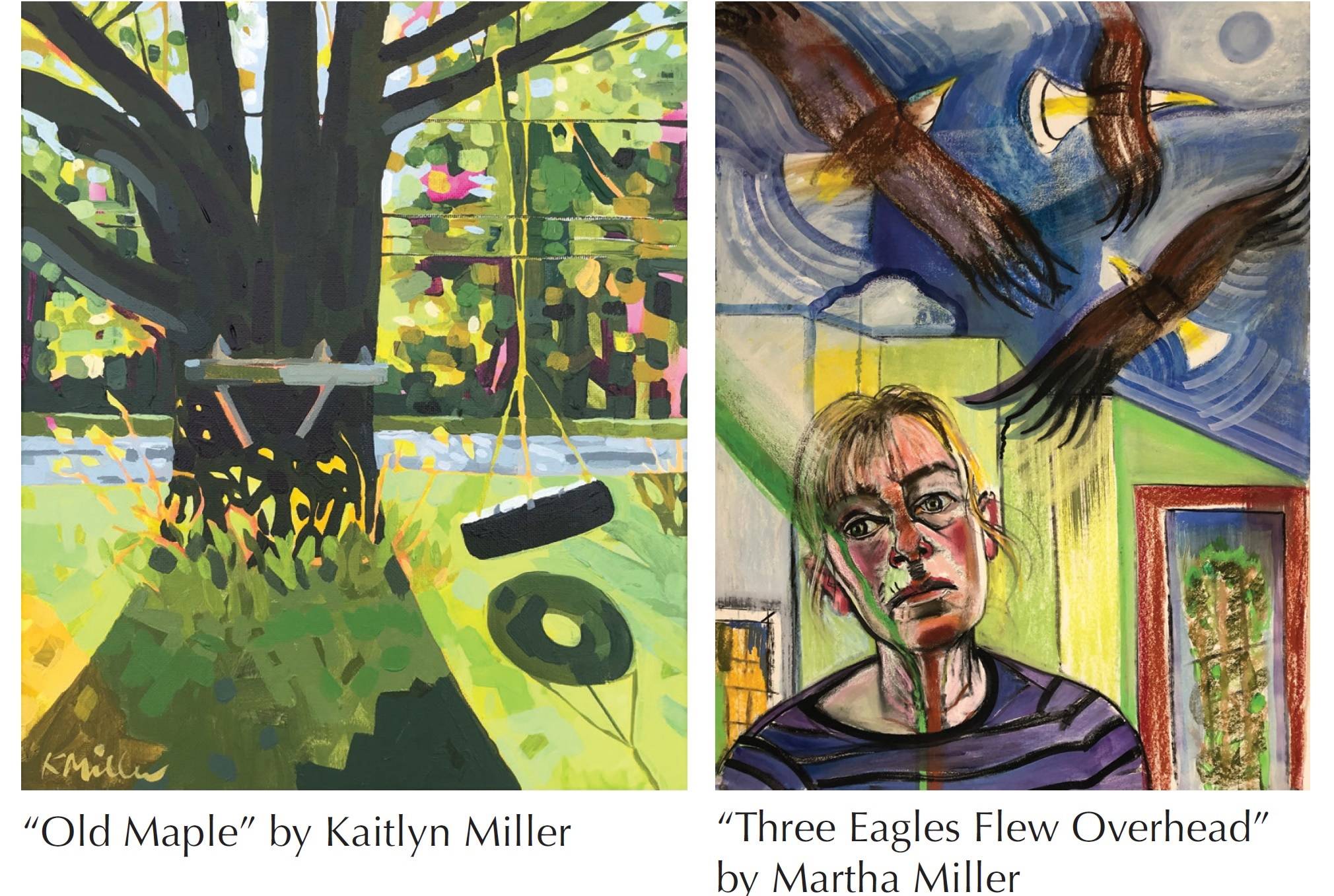 We are thrilled to announce the launch of our next gallery show! Launching September 1, this show brings together mother and daughter - Martha and Kaitlyn Miller - In Conversation. The show engages the viewers with works in a visual dialogue using color and dynamic impact while telling stories of place or self.
Martha Miller began drawing self-portraits at the age of fifteen. Though portraiture and work from the figure now comprise a significant body of her work, the self-portrait has long been her central method of expression. Miller has a strong reputation for her work in pencil, pastel, charcoal, and mixed media. For more than thirty years her work has appeared in over two-dozen invitational and juried exhibitions. She currently works in her home studio in Woolwich and recently retired from teaching at MECA through their Continuing Studies department.
Kaitlyn Miller has lived and worked year-round on Little Cranberry Island since 2008. She received her BFA in Ceramics from Maine College of Art in 2007 and has been a studio potter since, working summers at Islesford Pottery. With an enduring love for color and the island, she is most recently enjoying translating the beauty of her surroundings with acrylic paint on canvas.
We will be celebrating our official gallery opening at the upcoming First Friday Art Walk on September 2nd and will be open until 8pm - the perfect time to view the new show in person and meet our artists! We look forward to seeing you and hope you enjoy this striking show.
To view and browse the online gallery, visit In Conversation, here.

Want to learn more about In Conversation? The folio of the 2022 Island Journal showcases this talented mother-daughter duo. The journal is available for purchase here.
---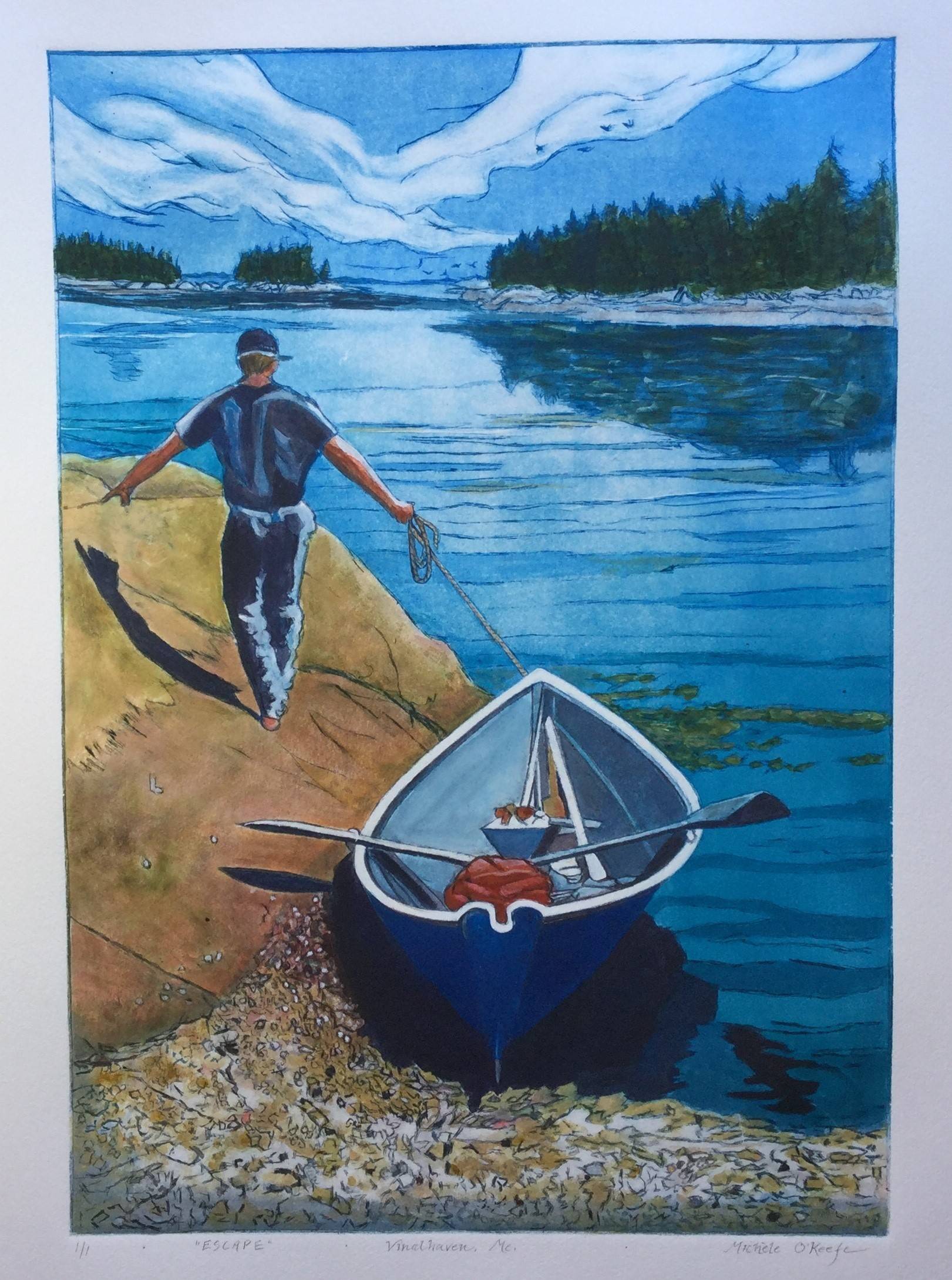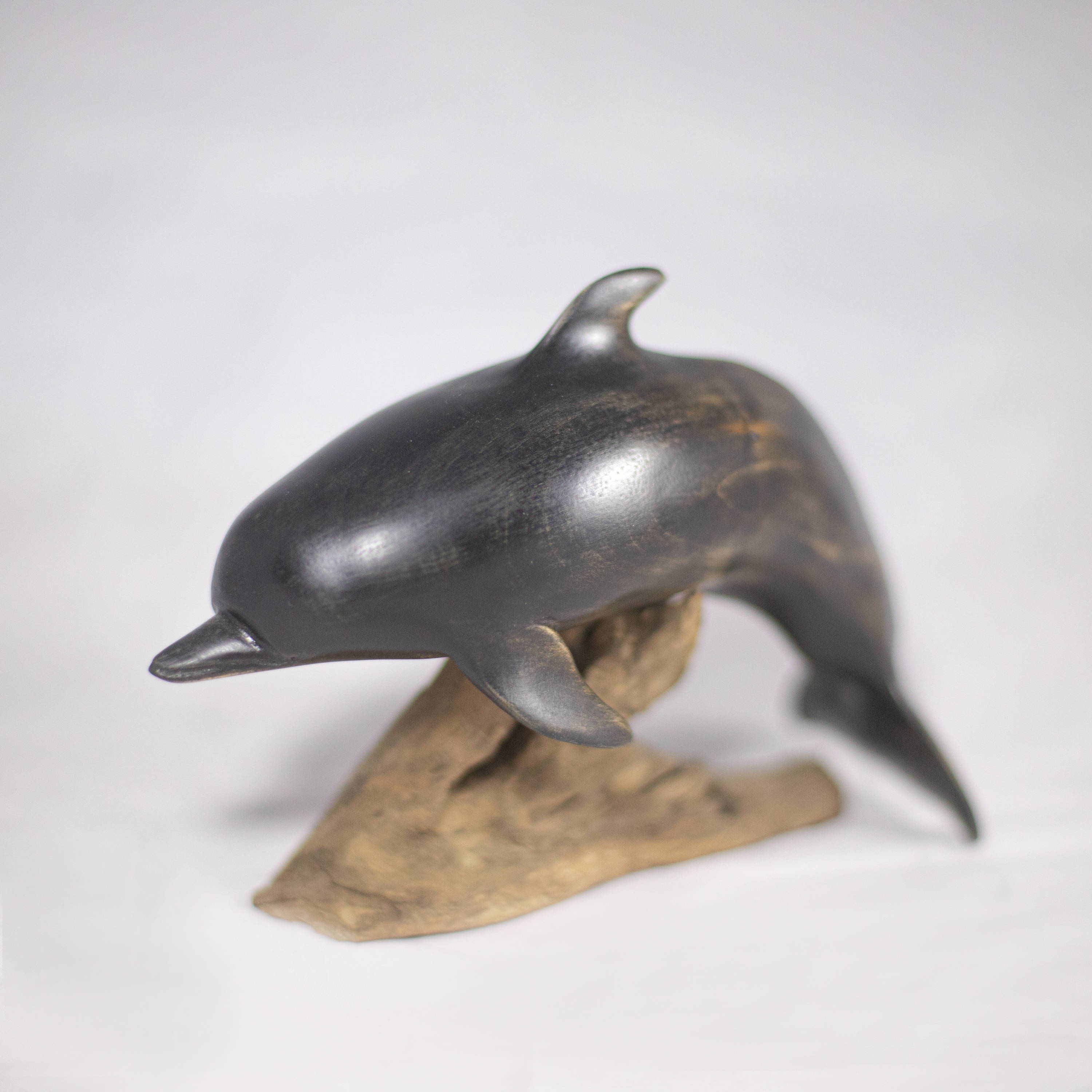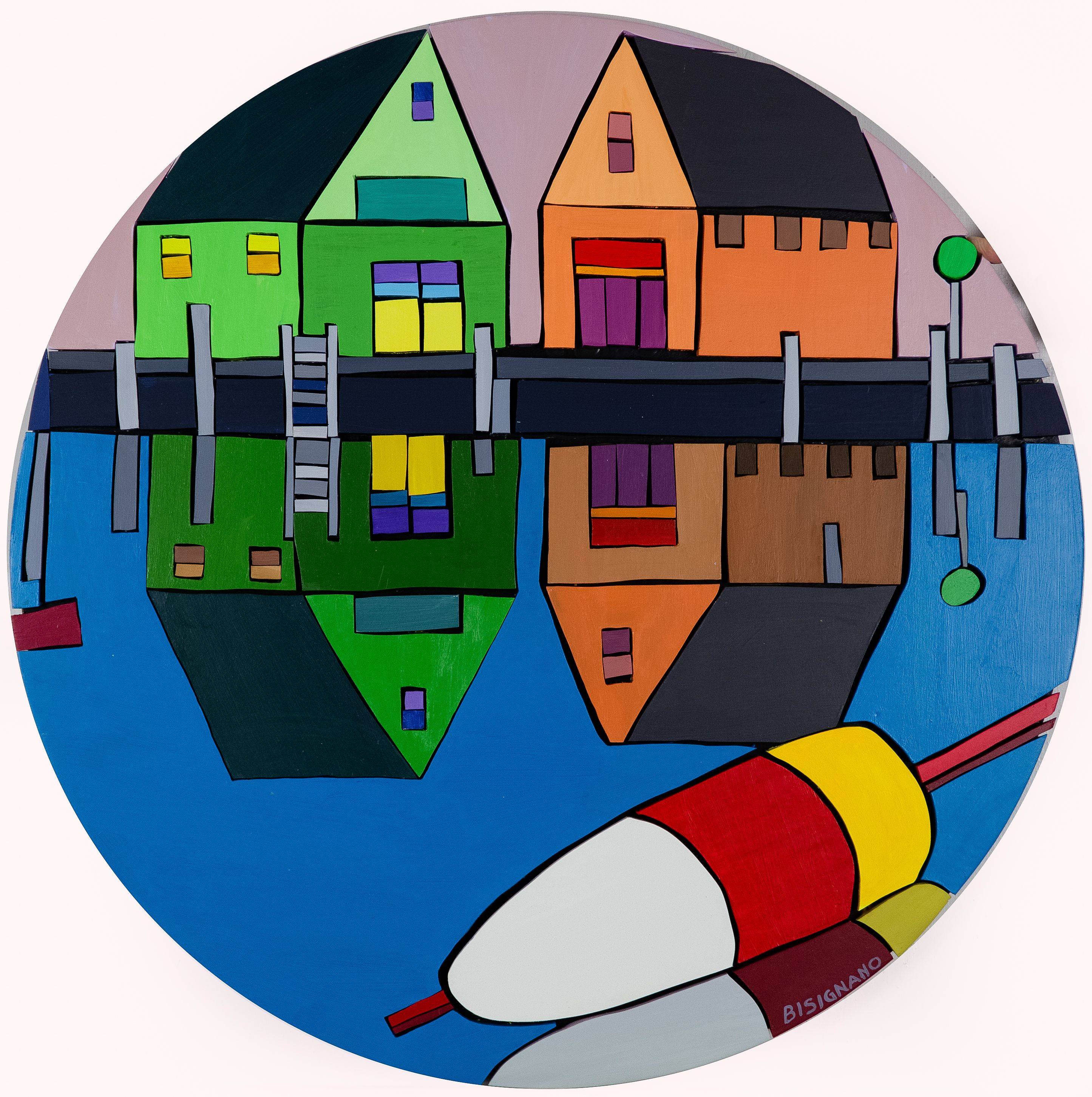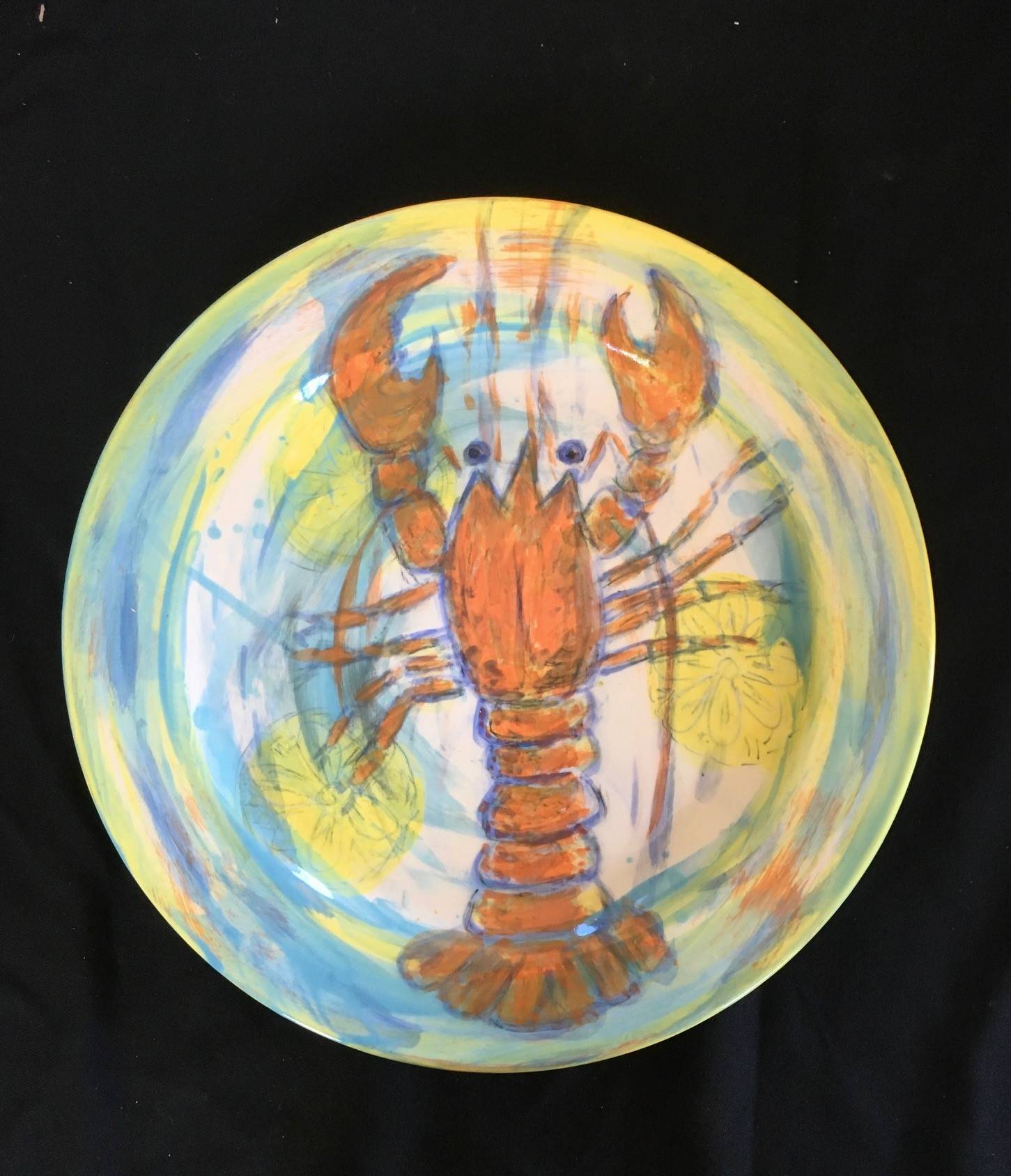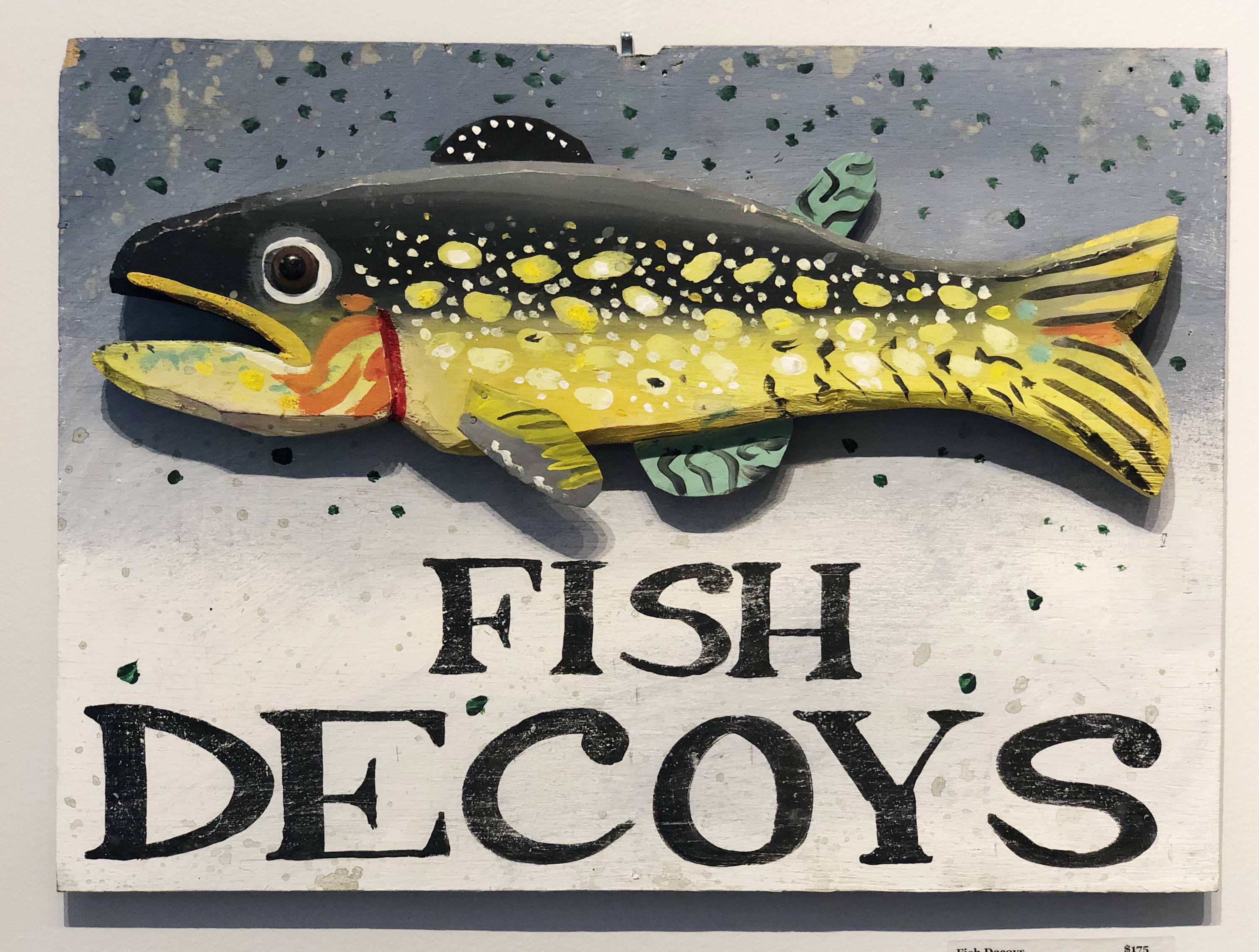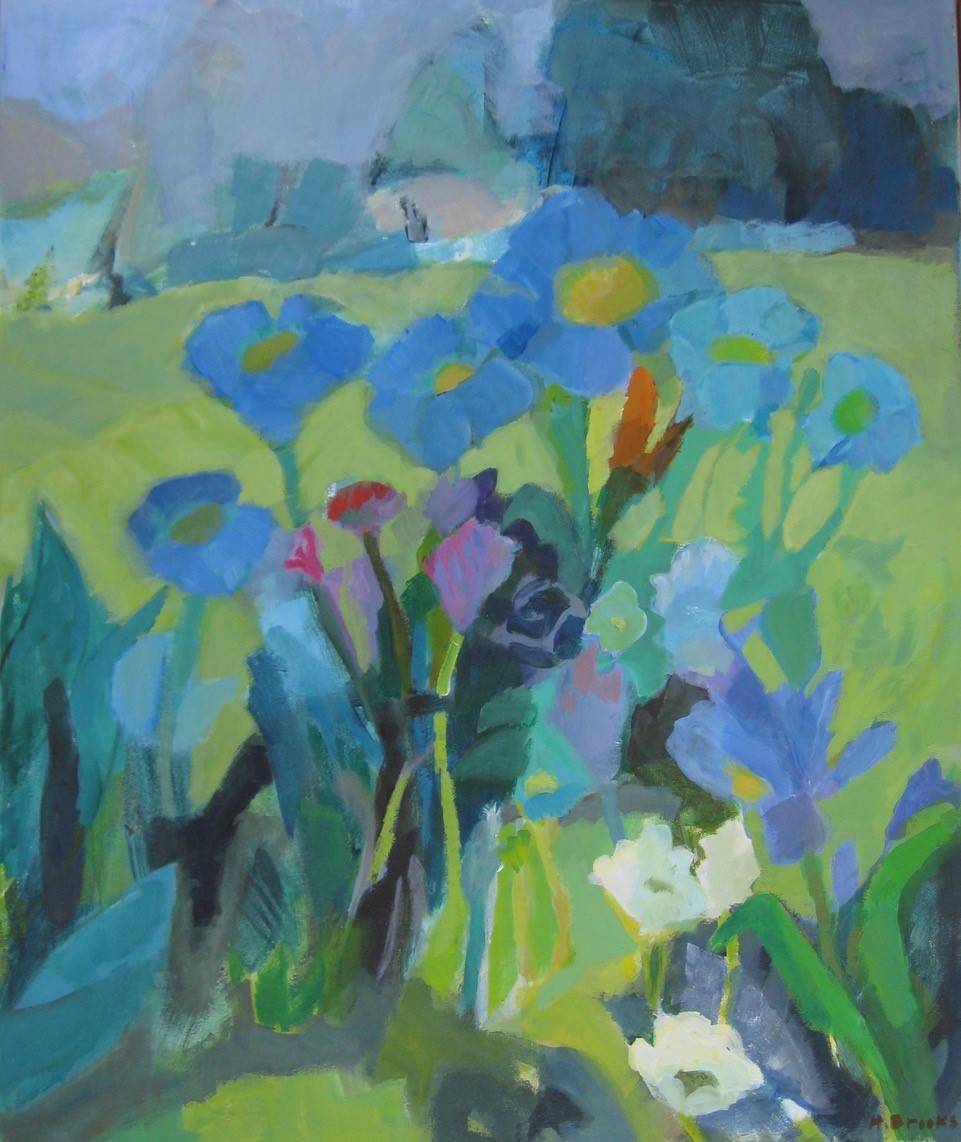 L to R: Michele O'Keefe, Wayne Robbins, John Bisignano, Randy Fein, Jeff Barrett, Holly Brooks

Rockland, ME - Early Summer Gallery show, Summer Pleasures, opens Friday July 1st and will be up through August 27th.
Join Archipelago as we celebrate the summer with new and returning Maine artists in the Gallery. "Summer Pleasures" will open with a reception during July's First Friday art walk from 5 – 8 p.m. We hope to see you then!
Artists work will be loading to the website soon. In the meantime, here are a few images to engage your interest.
Jeff Barrett, Monroe -
Using recycled wood from barns and sheds, along with found objects and hand-forged metal, Jeff crafts each piece one at a time. At Whistling Bird Designs in Monroe, he works diligently and lovingly on his eco-friendly line of wood carvings and sculpture. "These are my versions of antique paintings, vintage weathervanes, and my theater sets featuring fish, birds, dogs and cats, whales and ships as the actors in my folk art and wood sculptures. I have a whale of a good time making them and hope you enjoy!"  
John Bisignano
John was born In Newark New Jersey, in 1929, into a family of 12 brothers and sisters.
After a career in design and teaching, he moved to Maine to devote full time to his art. John worked in mediums including collage, sculpture, acrylics & photography. John constantly explored the relationship between color, light and form. He has created multitudinous works that includes landscape, seascape and still life. John was a master colorist. Through the use of color he brings the elements of surprise and delight to his work.
​Archipelago will be showing his paintings, collages, prints and large wood inlay pieces that are celebrations of a well-lived life. All proceeds from sales go to the John Bisignano fund through the Maine Community Foundation. John's heartfelt wish in life was to create a foundation for aspiring young artists who do not have the resources for college and this fund is set up for that purpose.
Holly Brooks, Portland -
"I have always loved art. There are a number of ingredients, as artists know, that go into the magic of it, such as color relationships, composition, positive and negative shapes and value contrast. Ultimately, it is a way of saying 'This is what I was looking at or thinking of and appreciating, and here it is in the way I captured it in my vocabulary.'"
Randy Fein, Lincolnville -
Randy Fein is an accomplished ceramic sculptor and well-known arts educator who has a 30-year history of leading community inspired workshops in both public and private schools. Archipelago will be showing a range of her work from her unique wall relief sculpture, hand painted plates and mugs, and large sculptural yet functional vases. Her expressive work features lively creatures that live in the sea, some of them mythical.
"Clay is my material of expression. It inspires touch, while offering infinite possibilities. I work in the moment and my hands are my tools. I pinch, push, and press clay seeking to discover the life hidden within a shapeless lump of mud. Over the years, I have mastered the challenges of finding my way with clay. A four-decade fascination creating Fein-art in clay keeps my imagination engaged with the limitless creative process"
Michele O'Keefe, Vinalhaven -
"As the Vinalhaven Ferry grinds across Penobscot Bay into a breathtaking expanse of sky and sea; the silhouettes of islands take shape on the horizon. And I am reminded of what a privilege it is to live and create art on the island of Vinalhaven -15 miles out to sea. Being here brings the essentials of life and art into sharp focus-especially during Covid. The working waterfront, the resilience of island families, the beauty of the environment, or perhaps a magnificent seagull, all come to the fore in my work. To treasure, document, and preserve, glimpses of what makes this island unique, motivates the choice of my subject matter and my art."
Wayne Robbins, Bath –
Robbins' appreciation of the innate beauty of wood helps him design pieces that maximize the beauty and grace of both the medium and the subject. He chooses from a variety of native and exotic woods. By selecting a wood that complements his subject, a synergy results that informs and guides his creative process. For finishes, Robbins uses various combinations of oils and waxes to give the sculpture that "almost wet" look as well as a feeling that is silky-smooth to touch. He welcomes admirers to touch his creations so they can experience the full sensual awareness of his art.
Robbins' representational style depicts the natural grace and beauty of the creatures he loves. Sculpture sizes range from two inches to four feet, in both wall mounts and freestanding compositions. Each sculpture is unique and identified for its species, numbered, dated and signed by the artist.
The sea's breathtaking beauty and its infinite varieties of flora and fauna are constant reminders that we must respect and help sustain the lifeblood of our planet. Wayne Robbins' mission, through his teaching and art, is to share his passion for the sea and to inspire responsible stewardship of the Earth's fragile ecosystem
---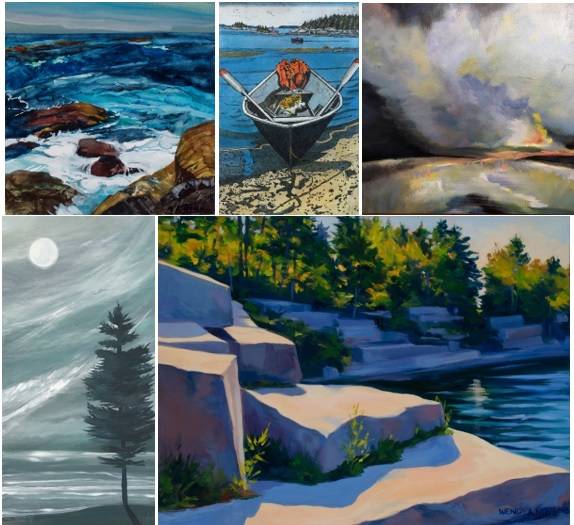 Exhibiting now in the Gallery is "View From Here" featuring artists MJ Benson, Wendy Newcomb, Nina Devenney, Michele O'Keefe, Michael Torlen and Kaitlyn Miller. These artists will show through December 31, 2021. To view some of the pieces available for purchase online, visit the Fine Art collection. The Gallery is open Wednesday through Saturday from 10 - 4.
[Top L to R: Michael Torlen, Michele O'Keefe, MJ Benson; Bottom L to R: Nina Devenney, Wendy Newcomb]
To learn more about MJ Benson, visit her collection here.
To learn more about Michele O'Keefe, see her work here.
To learn more about Nina Devenney check it out here.
To learn more about Wendy Newcomb view her work here.
To learn more about Michael Torlen, see his work here.
To learn more about Katilyn Miller view here paintings and statement here.
Please call 207-596-0701 if you have questions or would like more information. Thank you very much for your interest and support of Maine's creative economy.
---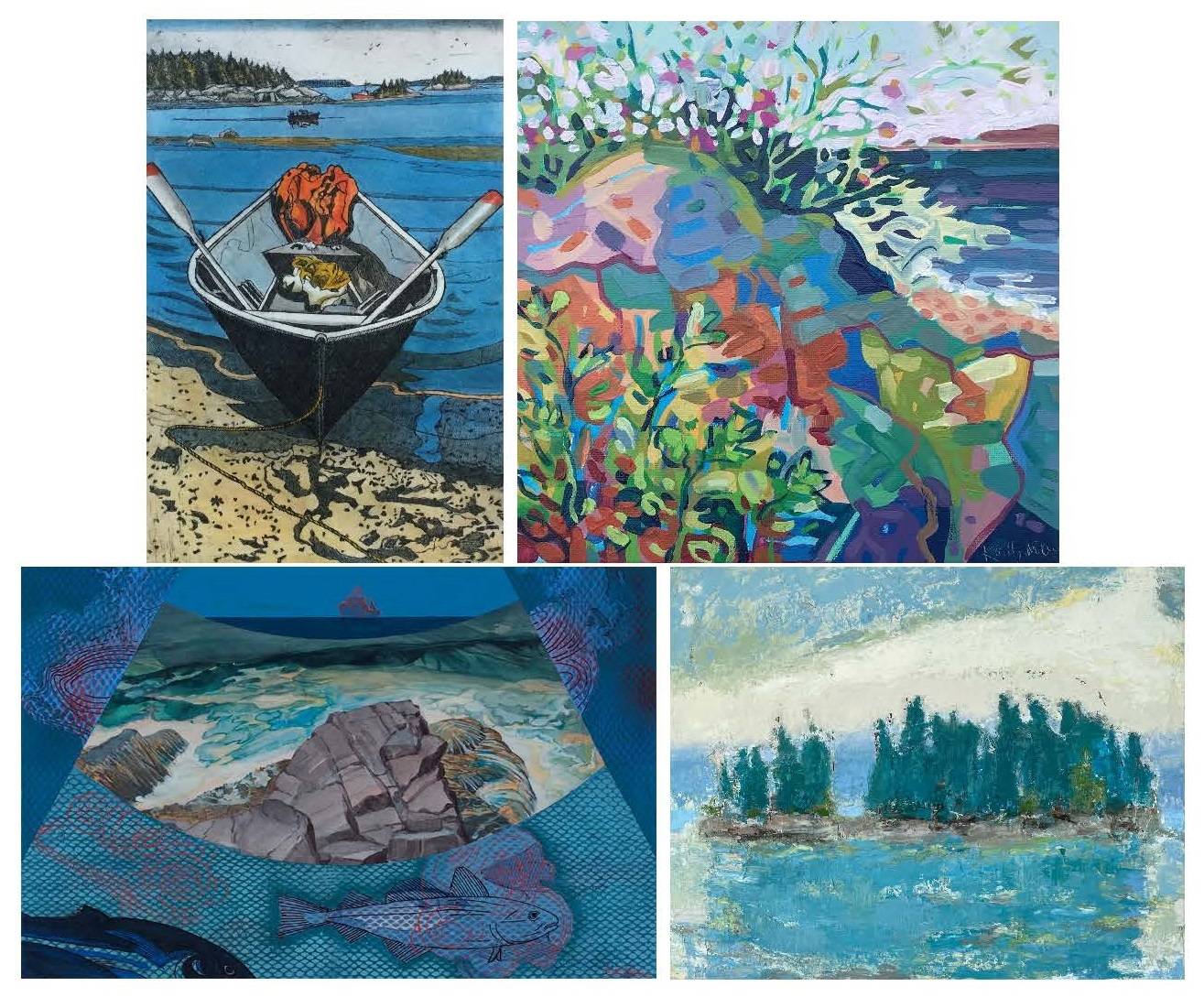 Currents and Channels: Four Coastal Maine Artists is now open in the gallery through September 25, 2021. This show features four artists: Kaitlyn Miller of Islesford, Leecia Price of Rockland, Michael Torlen of Monhegan, and Michele O'Keefe of Vinalhaven.
As with the channels and currents that move between the harbor city of Rockland and the islands of Monhegan, Islesford, and Vinalhaven, art and creativity flow and circulate in and around the bays of Maine. Join us in viewing the works of Kaitlyn Miller, Leecia Price, Michael Torlen and Michele O'Keefe as each looks at the coast and shares their own perspectives both geographically and conceptually. While Miller and Price have abstracted the views of their communities and coast, Torlen and O'Keefe have brought familiar and specific elements into the landscape to evoke a sense of place and purpose.
We're happy to note that this show will have two First Friday events - August 6th and September 3rd. We'll be open until 8 those evenings and we expect that the artists will join us on August 6th
To view some of the pieces available for purchase online, visit the Fine Art collection. Make sure to check out the folio of Michele O'Keefe's work in the 2021 Island Journal available for purchase here as well as a recent article on Michael Torlen by Carl Little in Maine, Boats, Homes and Harbors magazine available here.
Please call 207-596-0701 if you have questions or would like more information. Thank you very much.
---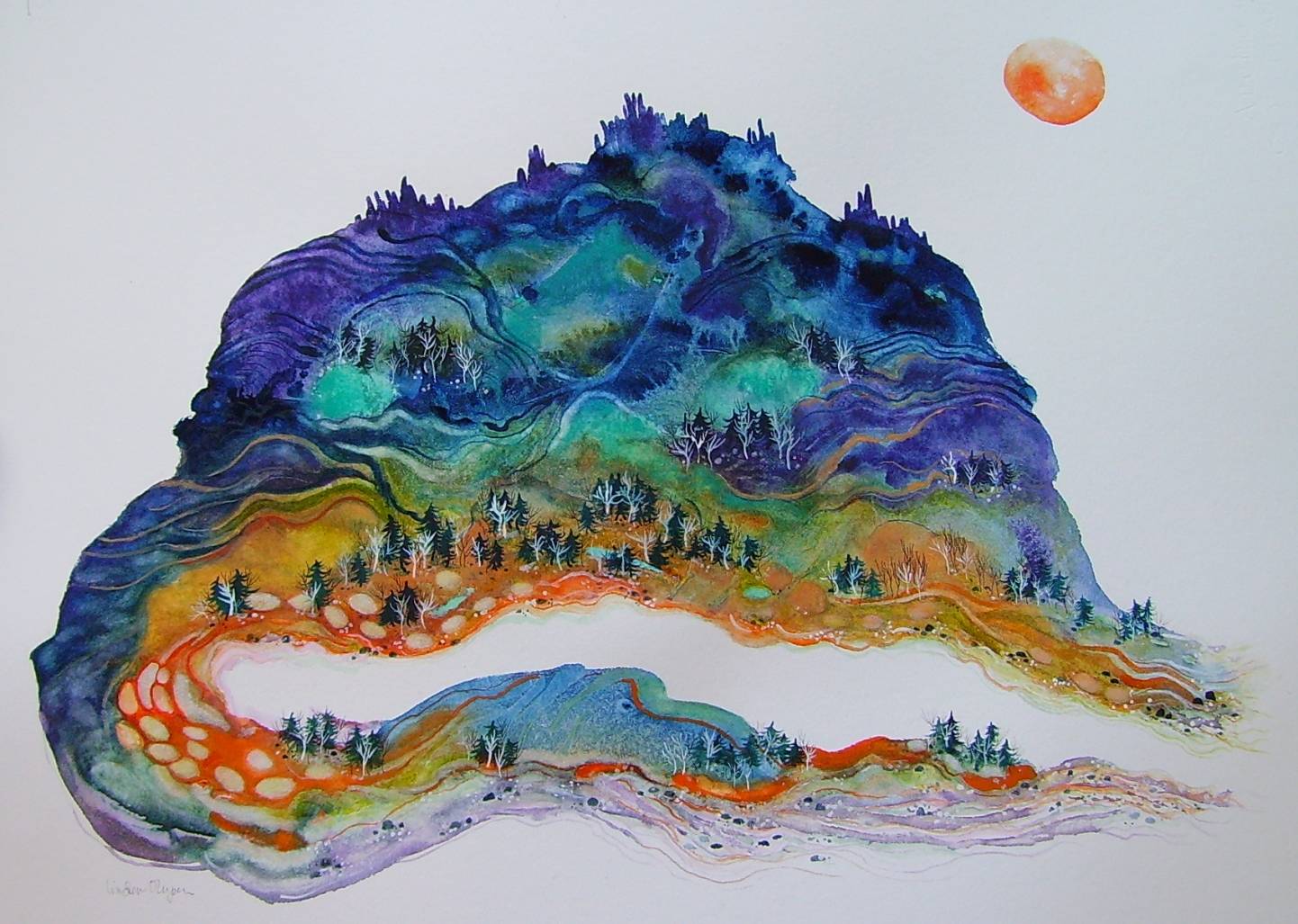 In Still Life by Linden O'Ryan
Showing in the Gallery now are artists Linden O'Ryan, Holly Berry, Kathleen Perelka, Richard MacDonald, Susan Beebe. The show celebrates color in all media - watercolor, pastels, stained glass, and oils as part of the shoe "Color All Around". Art is a great way to remind us of favorite moods, places, or events in our lives and this show celebrates all of these inspirations. Come join us in the gallery or call for available work. (207) 596-0701. Gallery hours are Wednesday through Saturday 10 - 4. To see some of the pieces in the show, visit Fine Art items.
This show is on exhibit through July 10th and has a First Friday celebration on Friday, July 2nd from 5 - 8 p.m. as part of Arts In Rockland's First Friday celebrations.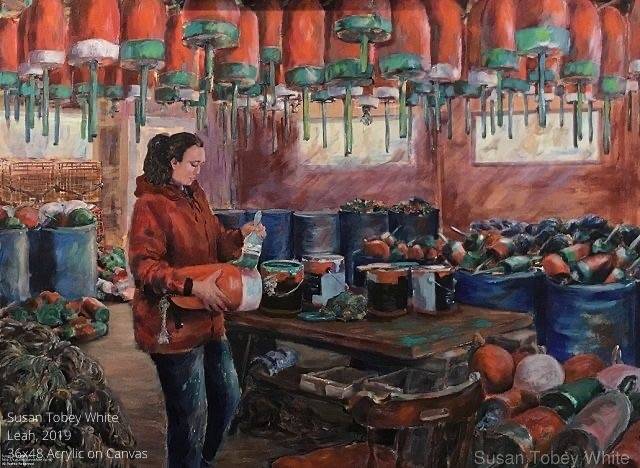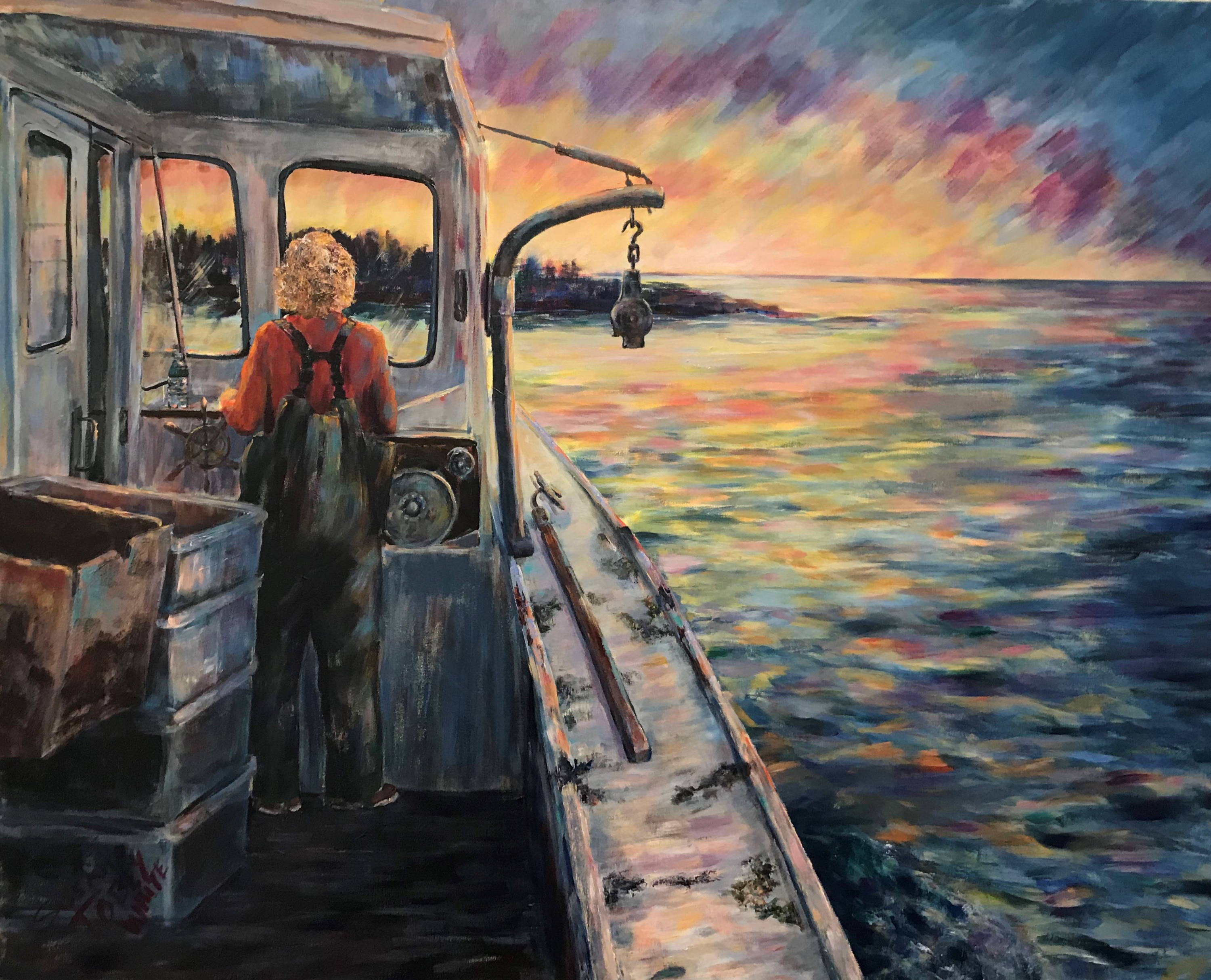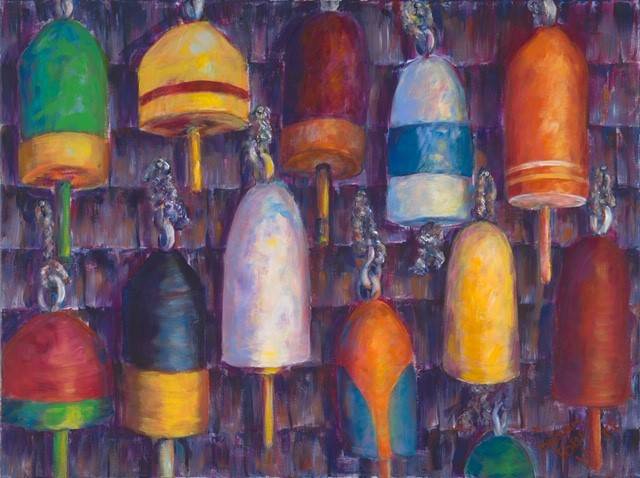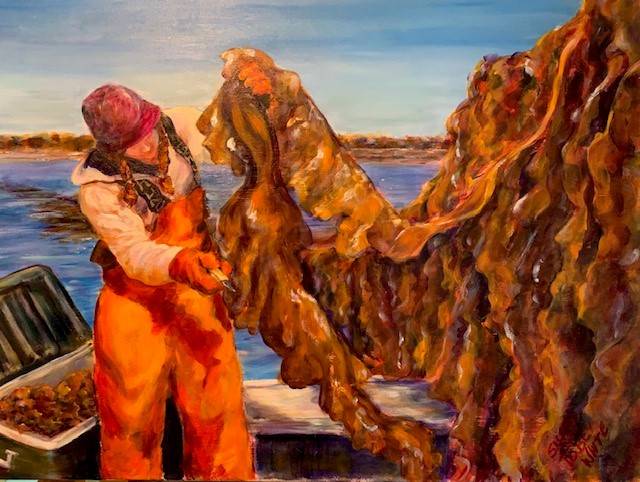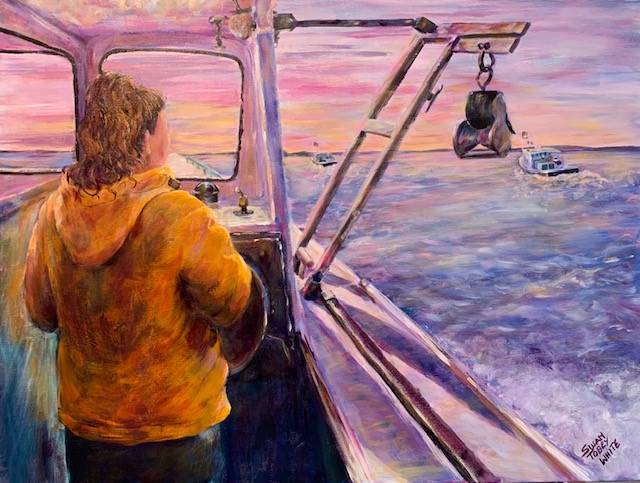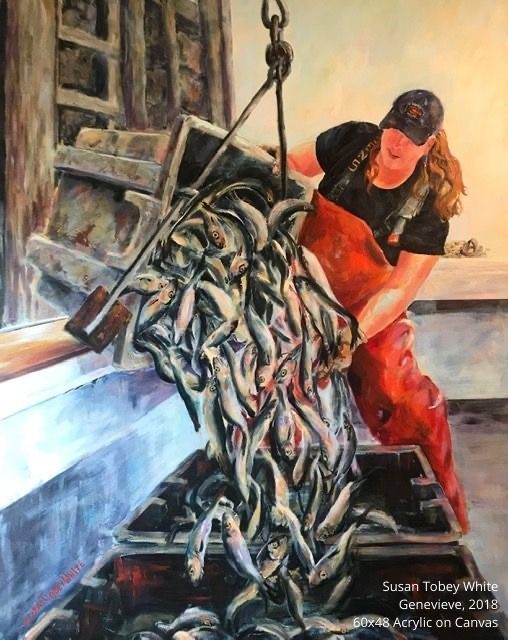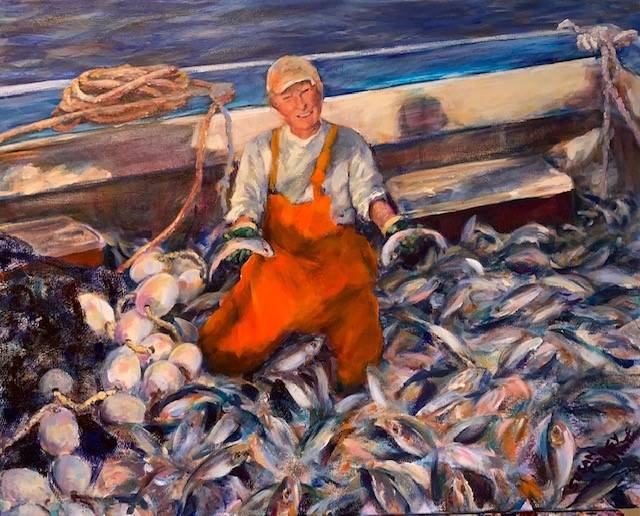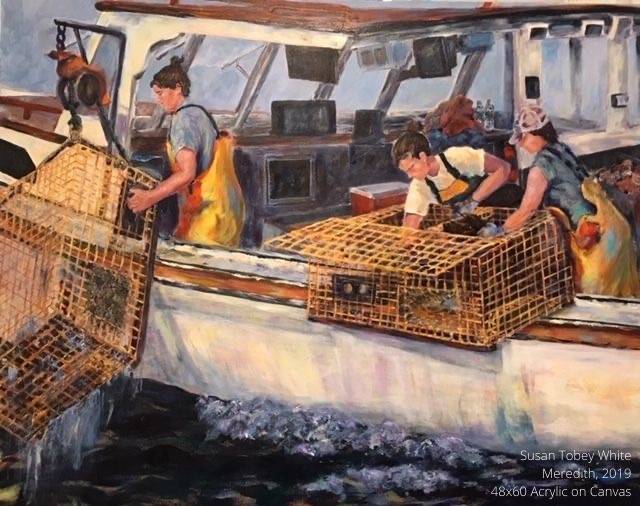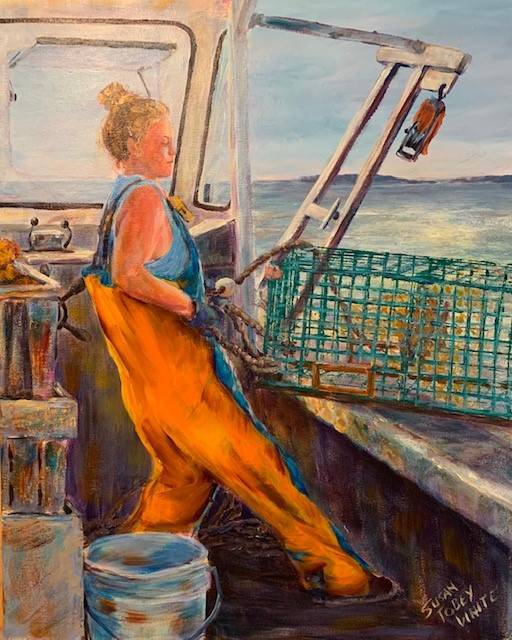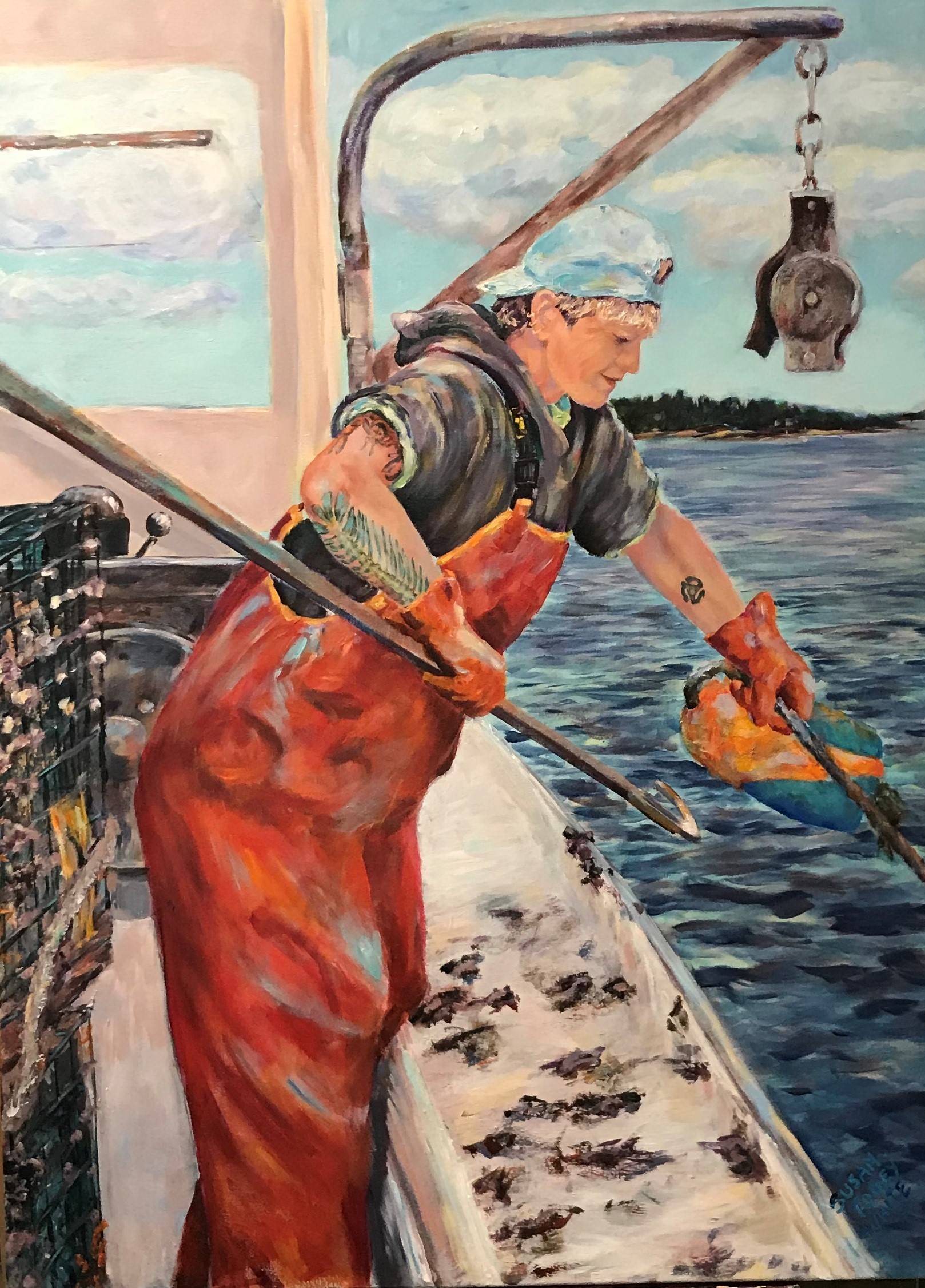 Archipelago is celebrating not only Maine's Bicentennial and its own 20th anniversary but Maine's working waterfronts with this show, 20 Miles. For centuries Maine's working waterfronts have served as the critical connection between communities and the sea. They have helped craft this State's sense of identity and reflect the bold and determined character of the men and women who work on the water each day. From ship-building to shipping and from aquaculture to lobstering, these iconic places scattered along our coast ignite in us a feeling that connects to something deeper; connects us to a way of life where one person, a boat, and a place to land it can craft a deep and sustaining connection for their community.
It is estimated that there exists fewer than 20 miles of working waterfront remaining along Maine's more than 5000-mile coastline. Only 17% of these working waterfronts are protected by the State's Waterfront Access Protection Program. As of 2019, the value of Maine seafood (aquaculture and wild harvest) was just under $674 million dollars.
The total impact of the $674 million dollars on the State's broader economy extends into the billions of dollars, all of which relies on the Maine's working waterfronts.
This show will be in the Archipelago Fine Arts Gallery from August 7 through September 27th. Gallery hours are Wednesday - Saturday 10 - 4. To preview some of the pieces, visit our Facebook Gallery.
This show features Susan Tobey White's collection of paintings and stories of women and girls who fish the Maine coast. In 2019 out of 4500 licensed commercial lobstermen 215 were women. Lobstering Women of Maine has a 'Strength of Women' interest, a lobstering education piece, traditions of Maine, family and heritage. The women are from the coast and islands of Maine from Wells to Corea Harbor.

My idea to create these paintings began with watching Suzanna unload traps onto a snow dusted dock on late November. I was amazed at her strength and how hard she was working taking on the full responsibility of a sternman. As a wife
of a part time commercial fisherman I am well aware of the work involved. I realized I have painted many men lobstering, but, never women. This simple thought developed into this whole series. A past student of mine now fishes out of Rockport. When she heard of the painting I had made of Susanna she led me to more women. As I learned the stories of these women I realized this is about much more than fishing. It has a strength of women interest, a lobstering education piece ( each
painting illustrates an aspect of lobstering), traditions of Maine, family and heritage. The women are from the coast and islands of Maine from Wells to Corea Harbor.
I feel honored to represent these women by creating their portraits and telling their stories.           ~Susan
For more information about Susan's series Lobstering Women of Maine, read this article from the Working Waterfront.

Other Featured Artists:
Abe Goodale
Born in 1985 on a working sheep farm in Montville, Maine, Abe Goodale grew up with a connection to the land, a curiosity of people and a passion for creativity. He studied ceramics and experiential education at university and spent the past dozen years working internationally as an artist and wilderness guide. He recently returned home to focus on a project closely connected to the local waters he grew up on.
As an artist, Abe seeks to capture his audience on an intimate level of reflection and sincerity. Through representational watercolors he creates paintings that both reflect and respect the individuals he encounters. Abe begins within the eyes of a person and gradually brings them to life while presenting not only a portrait but also an individual who tells a story and engages with the viewer in an authentic way. He demonstrates accurate representation of his subjects, while also allowing the medium to speak. Thus, his work joins methods of precision and control with the freedom of water and abstraction.
Following in the footsteps of his great-great-grandfather Charles Dana Gibson, Abe focuses on portraiture and the representation of an era. His deep passion for the arts and anthropology inspire him to look at the way humans engage with one another and the surrounding environment. He sees the arts as a platform to instigate change, to preserve culture, and provide visually enticing images that may document a way of living in an ever-changing world.
Andre Benoit
Val Aponik
"I am passionate about painting outdoors. Witnessing the color, form and light of a place that is changing, in motion and musical allows me to move out of the lines. I see spots of color and shape, that when laid down next to each other represent the whole. There is an urgency when painting outdoors to lay down the paint boldly, before it all changes. Whether it is a grand landscape or a celebration of the everyday, my work is a response to being present. Time stops at these moments for me. When the painting works, you can enjoy the tracks of paint and share my point of view."

Valerie Aponik has been painting for over 30 years. She lives with her husband , Paul (who designs and builds her frames) and dog, Ruby on Great Wass Island in Beals, Maine in the summer and in Phillips, Maine during the winter. After moving to Maine in 1976 to "live off the land", she received her AD in Nursing and BS from the University of Maine in Farmington. A non-traditional student of art, she has studied with Colin Page, Stuart Shils, T Allen Lawson, Louise Bourne and Lois Griffel.
Aponik's work is shown at Star Gallery in Northeast Harbor, Blue Hill Bay Gallery in Blue Hill, Woodwind Gallery in Machias, Nelson Decoy Gallery in Jonesport, Archipelago in Rockland and Roux and Cyr International Fine Art Gallery in Portland.
Laurel Averill grew up in Georgetown and Edgecomb, Maine. She holds a B.S. from the Evergreen State College in Olympia, WA where she studied Ecology and ceramics. She is currently a brushwork artist at Georgetown Pottery. Laurel resides in Edgecomb with her husband and two young children, Oliver and Azalea.
---
Our Maine features five fine art photographers celebrating Maine -- Josie Iselin, Jim Nickelson, Lisa Mossel Vietze, Olga Merrill and Terry Hire. This exhibit will remain in the gallery through Saturday, August 1, 2020 and online through December 31, 2020. To view the entire online gallery, click here: Our Maine, or click on the highlighted names above to see the online collection of each artist.

Featured Artists:
Terry Hire received his BFA in Art History and BA in history from the University of Tennessee.  Prior to moving to Maine in 1981, he lived in Nashville, TN where he was an interior designer, working on hospital design, store planning, and private home design. During that time, he fell in love with photography and took courses at the Maine Photographic Workshop in Rockport. He moved to Maine in 1981. His long-time interest in photography was put on hold during his work as an interior designer at WBRDC Architecture in Bangor until he opened his own firm, Design Alternatives, in Belfast.
For the last 15 years he seriously pursued photography, and his colorful images are in the hands of many private collectors. Terry Hire died unexpectedly on January 31, 2020.
Josie Iselin is a photographer, author and designer who lives in San Francisco but spends large chunks of her summers on Vinalhaven, where she shares a home with her brothers, her children and their cousins. 2020 might be the first year Josie has not spent time in Maine since 1969.
"Out my back door I take a long draught of the moist air amidst the burgeoning green of my early June yard; the ocean—just up over the hill—clings to the wind depositing clarity into the air around me. Out my front door the fog is shrouding the hill that dominates this little neighborhood, but the sun is playing with the fog and already glinting off the Bay beyond. Everything about this day breathes and smells of Maine.
But all of this sensory Maine-ness is here in San Francisco, where I live and work, where I have been in situ for months, waiting for release to travel and explore. The feel of stones in my hand and the curiosity to examine these stones, to put them on my scanner, to ask questions about why they are the way they are, is a process of looking closely that germinated on Maine beaches but is honed along my local shorelines overlooking the great Pacific Ocean. The visceral exuberance of pulling a massive sugar kelp from Penobscot Bay and holding it aloft to gasp at its golden, flouncingly sculptural splendor is at the core my work. How do I make these majestic organisms, the marine algae that are hidden from us under the tight lid of the tide, how do I make them come alive? First I have to get a specimen onto my scanner. (Both the sugar kelp and colander kelp were dried and shipped west through the US Postal Service.) Then I have to learn about its life history so that I can write its story." -- Josie Iselin
Olga Merrill is a visual artist primarily using the medium of photography. "It's incredible beauty everywhere" she said to her Mainer husband during her first summer, 2013, in the USA. He surprised her with the camera at the end of 2015. Since then, her view of the world was made through lenses and thse world got another artist whose works are inspired by the beautiful Maine seacoast.
Some of Merrill's seascape images give the traditional sense of pictorialist graininess, and an almost meditatively slow feel of a mysterious, painted picture. The fascinating pattern of ice images pursues the exploration of emotion, providing more opportunity for an imaginative response from the viewer. All Olga's abstract works create space in the minds of those who allow themselves to become absorbed in a dreamlike world.
She says "I feel happy in fairy tale Maine and I invite everybody to see how Maine reflects my vision, dreams and feelings."
Lisa Mossel Vietze: "I moved to Maine after college and Maine is where I found my personal and artistic voice. I picked up a camera in the mid 1990s with the intention of making large landscape images full of drama and space with grand, far-off vistas in which I could hope to escape from childhood misery. 
​But what my images came to reveal is the power and intimacy of smaller landscapes. I was increasingly drawn to forms, vitality, and the vibrations of color. I found my camera diving more and more into the world of macro photography, particularly the botanical world. I stopped chasing the horizon and began to search my own backyard. I explore the coasts, woods, fields, and gardens of Maine seeking to discover what is beautiful on any given day.
My search for beauty in my surroundings is much like my own search for the Divine. The color and vitality of flowers is like a salve for me. I make these images to heal and draw me deeper into my own living. Flora is not only delicate, flora is resilient. Plants exist despite poor environment, and even bloom. For me, flora reminds me of what exists within myself and has since the beginning – resilience, power, and beauty."
Jim Nickelson: "My work that is included in Our Maine is inspired by the wonderful views of the night sky and the full moon that are such an integral part to Maine's natural treasures. All of this work includes photographs of stars taken from Maine's night sky. The rising or setting of the full moon over the Maine landscape or ocean has been a significant part of my photographic practice for a decade now, and I've incorporated these photographs as well into my "Pale Fire" project. I hope that my interpretation of the Cosmos as seen from Maine resonates with viewers and perhaps even compels them to take another look upwards themselves."
Located at 386 Main Street in Rockland, the Archipelago Fine Arts Gallery features artists who work with natural, coastal, and working waterfront themes inspired by living and creating art in Maine. Our hours are currently Wednesday - Saturday 10 - 4.