Archipelago Gallery News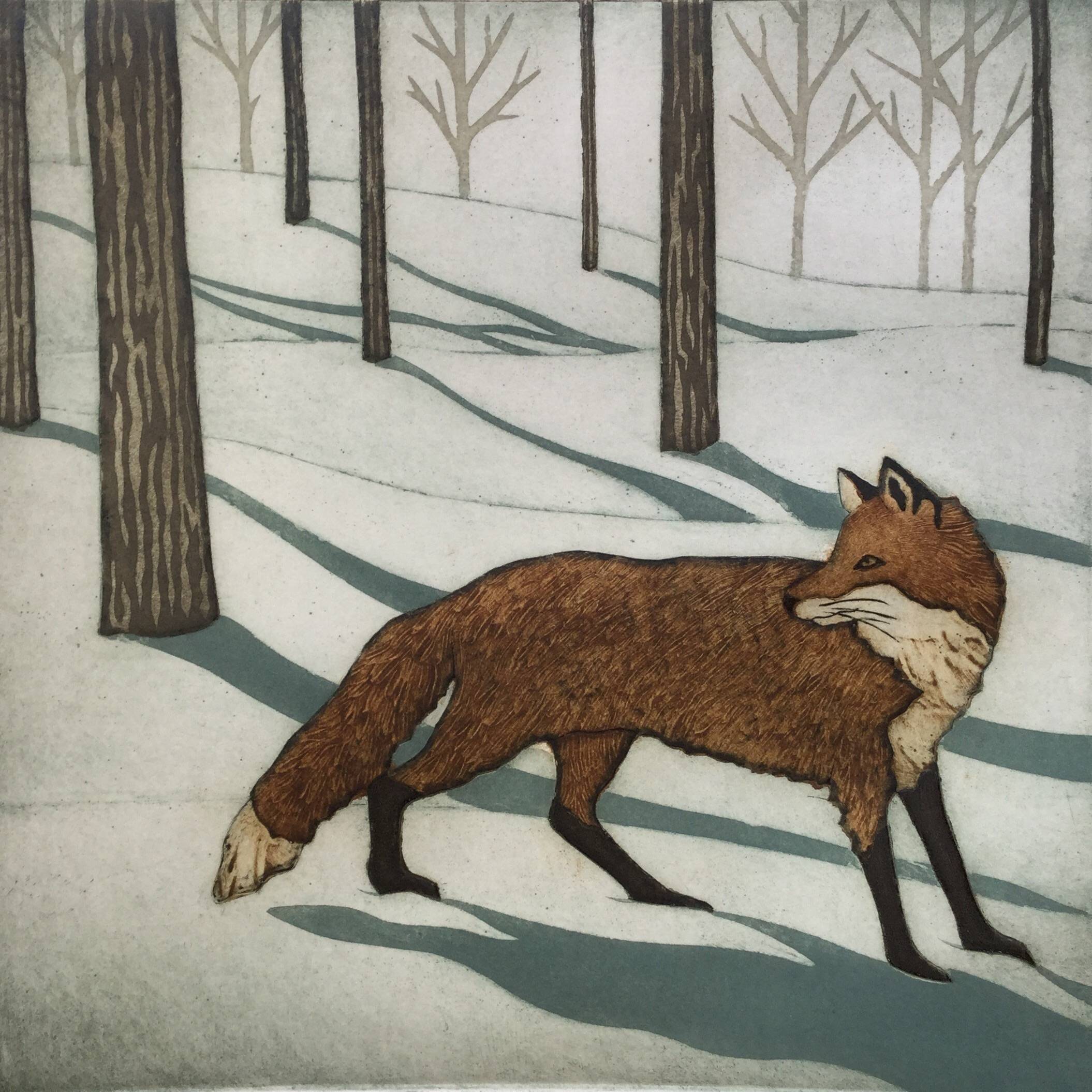 Current
"Maine Life" will include collographs by Kathleen Buchanan; Forest Fox (above)
"Maine Life" opens Friday, October 4 with splashes of color, rich landscape scenes, textiles and stained glass home decor. This gallery show exhibits art that reflects life in Maine and adds beautiful craft and design elements to our living spaces. New to Archipelago are Hillary Hutton's handwoven rugs with eye-catching designs, William Hallett's vibrant interpretations of coastal Maine scenes, and cement tile reliefs by Betty Hesleton. Archipelago favorites are also on exhibit: Kathleen Buchanan's collagraphs, Linden O'Ryan's watercolors, Leecia Price's encaustic and cold wax pieces, Richard MacDonald's stained glass sconces and mirrors, and Rocky Mann's saggar pottery."
Join Archipelago to celebrate Maine's fall season with an opening reception for the new gallery show, "Maine Life," on Friday, October 4. The Island Institute's store and gallery will host a special artists' reception, from 5:00 p.m. to 7:00 p.m., during Rockland's First Friday Art Walk.
The "Maine Life" exhibition will be on display through the holidays.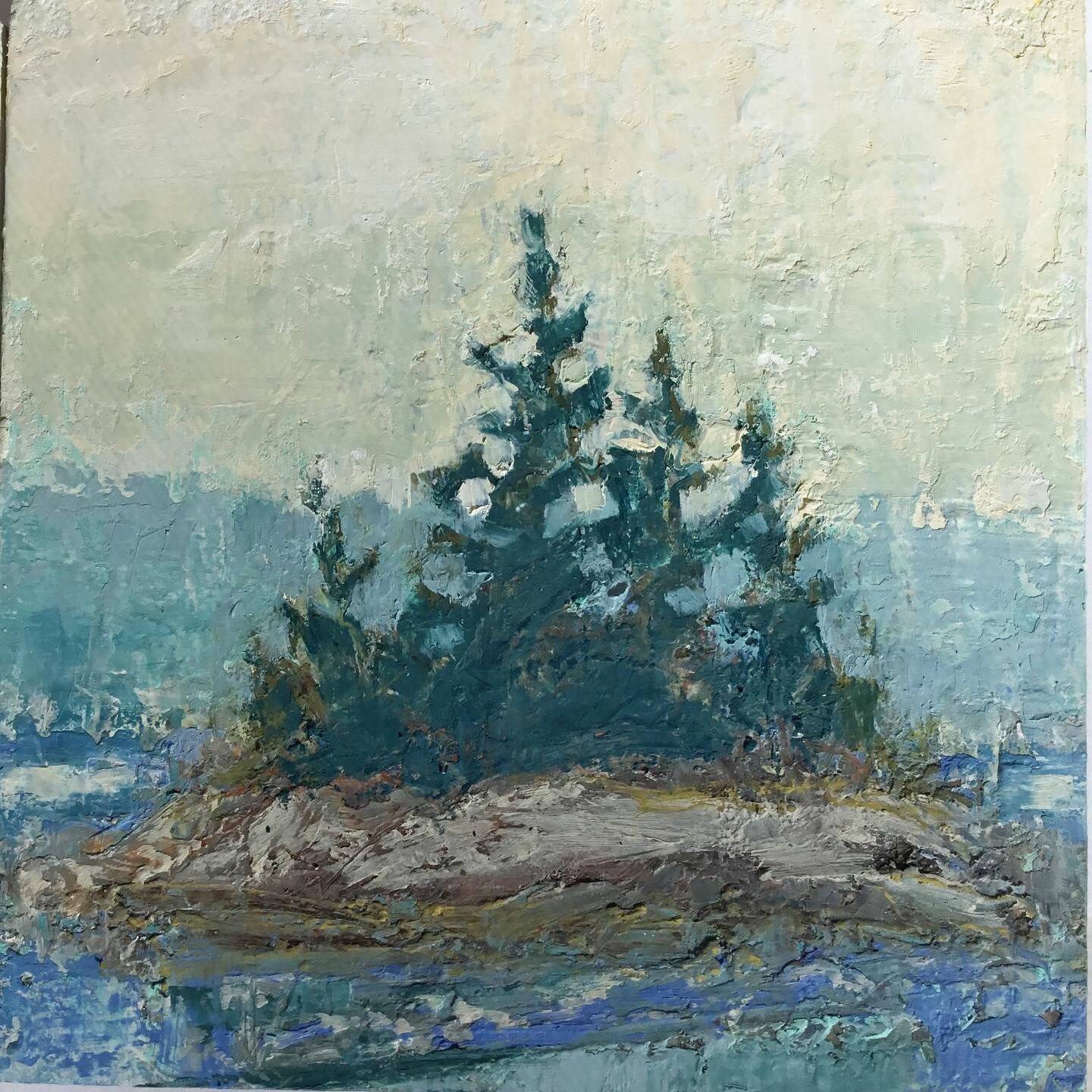 To see more of the work featured in Archipelago Fine Arts Gallery, go to our facebook page.
Featured Artists:
Kathleen Buchanan (Rockport, ME) – Educated and employed as a biologist prior becoming a full-time printmaker in 1999, Buchanan's path to becoming a working artist is somewhat atypical. With a lifelong interest in creating art, she renewed her efforts at studio art, and printmaking in particular, while completing her master's degree in wildlife biology at the University of Alaska. While biology and printmaking seem to have little common ground, Kathleen believes that much of her training as a scientist has served her extremely well as an artist, noting that both disciplines require skill at observing the environment, at not only looking but seeing what is going on around you. She sees biology and art as two dialects in the same language—different ways to communicate what you have learned about the nature of things and the truth of your experience—and collagraph printing, with its intricacy and subtlety, a fascinating medium to use in the communication of these ideas.
William Hallett (Nobleboro, ME) – As a resident of coastal Maine for the past 25 years, Hallett has become increasingly drawn to the unusual beauties of the northeastern coast of the U.S. Having spent his childhood and adolescence in Mexico City, he was deeply, if unconsciously, drawn to a particular sensitivity to color and the unusual color combinations typical of Mexico.  
His recent paintings, in a contemporary style using acrylic paint, focus on coastal Maine seascapes and landscapes, particularly waterfronts, piers, boats, and fishing villages. His aim is to intensify the visual experience of atmospheres peculiar to coastal Maine, where sky, land, and water meet.  
Betty Heselton (Gardiner, ME) – Surrounded by a creative family, Heselton was exposed to drawing, carving, painting and photography throughout her childhood on a small working farm in rural Maine. She developed a keen interest in seeing and documenting the beauty around her and these recent pieces are an exploration of her expression of her artist's eye in a new medium—concrete.
Hillary Hutton (Vienna, ME) – Hutton purchased her first loom in 1980 and has been weaving ever since. With a background in fashion and costume design, her first weavings were yardages for clothing, and she initially began with a line of clothing she sold to boutiques and children's shops. After ten years of weaving and sewing clothing though, Hillary discovered rug weaving, and in 1990 she began weaving rugs seriously and showing them at craft shows. Over the past 15 years, she has perfected the technique and now focus on improving her skill with each rug she weaves.
Richard MacDonald (Boothbay Harbor) – Growing up in White Plains, NY, MacDonald spent a lot of time exploring places and things on his own and developing an imagination and independent way of doing things. Even though he was fascinated with glass from a young age, he never did anything with it until he was in his twenties. In those days the hobby movement hadn't begun, there was no such thing as a craft shop, and the stained glass industry was almost dead. He learned painting, firing, and traditional window construction from a couple of artist mentors, opened a studio of his own, and ultimately moved to Maine in 1972 with his wife and children. With the craft movement in full swing by then, Richard spent the next 40 years participating in national shows from New York to Florida and his studio flourished with shipments to nearly every state, as well as Japan and Saudi Arabia. After losing his studio to a fire in 2009, he rebuilt a more modern building and has since chosen to concentrate on fewer galleries, less production, and more individual pieces.
Rocky Mann (Mount Desert Island, ME) – A professional potter, Mann works in his studio and gallery that borders Acadia National Park. Throughout his years as a potter, he has produced a wide range of work using a variety of styles and techniques. Rocky's work now revolves around treating the clay as a canvas and exploring various firing techniques. He is inspired by the natural world that surrounds him on Mount Desert Island, creating graphic patterns and imagery on pottery that includes high-fire glazed porcelain, raku pottery, and saggarware.
Linden O'Ryan (Thomaston, ME) – O'Ryan began creating art in 1985, and as her artistic expression grew, her mediums changed. She first started out weaving, then moved to collages, and finally settled on watercolors. Linden's larger watercolors, which she started to paint in 2008, involve nature and a passion for movement and color—the feelings range from magical and whimsical, to spiritual and reverent in relationship to the human condition. 
Leecia Price (Camden, ME) – Price is known for her atmospheric landscapes of the Maine coast. She has painted for over 14 years and exhibited in Maine and Florida. While working in conservation as a naturalist, graphic design and illustration lead Leecia to painting. She credits her study of plant and bird identification with teaching her to see rather than just look. Even so, her recent work relies as much on imagination as observation. Living aboard and traveling on a sailboat for several years sealed her lifelong affinity for water and the sea, a reoccurring theme in her work. As an oil painter and beekeeper, she learned to create both hot and cold painting mediums from her extra beeswax. She combines them with oil paints, dry pigments, and commercially available artist archival quality products for wax-based painting.
Located at 386 Main Street in Rockland, the Archipelago Fine Arts Gallery features artists who work with natural, coastal, and working waterfront themes inspired by living and creating art in Maine. Starting Memorial Weekend, both the store and gallery will be open seven days a week: Monday through Friday, 9:30 a.m. to 5:30 p.m.; Saturday, 9:30 a.m. to 5:00 p.m.; and Sunday, 11:00 a.m. to 4:00 p.m.