Archipelago Gallery News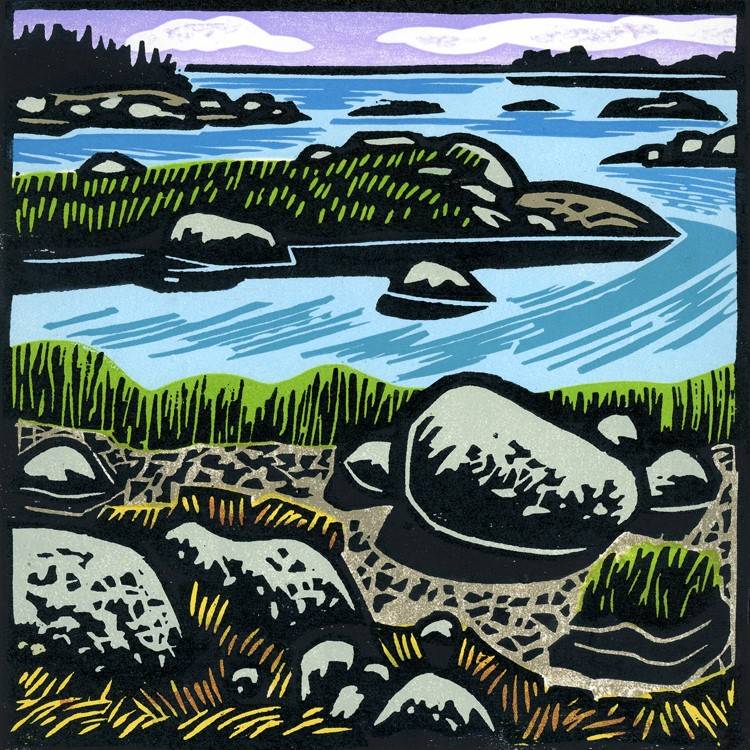 Current
"King Tide" will include woodcuts by Holly Berry; Another Fine Day (above)
"King Tide," showcases the work of four Maine women, each using very different mediums and styles to depict both real and inspired landscapes around our beautiful state. The featured artists include Wendy Newcomb of Sebago (oil, gouache, and acrylic paintings), Holly Berry of Waldoboro (woodcut prints), Molly Mains of Bridgton (printmaking and multimedia), and Marguerite Lawler of Portland (oil paintings).
Join Archipelago to celebrate Maine's high season with an opening reception for the new summer gallery show, "King Tide," on Friday, August 2nd. The Island Institute's store and gallery will host a special artists' reception, from 5:00 p.m. to 8:00 p.m., during Rockland's First Friday Art Walk. In addition to the opening reception on August 2nd, the public is also invited to stop into Archipelago's Main Street location during the First Friday Art Walk on September 6th to celebrate this show, enjoy a selection of snacks and beverages, and see all of the pieces.
The "King Tide" exhibition will be on display through September 29th.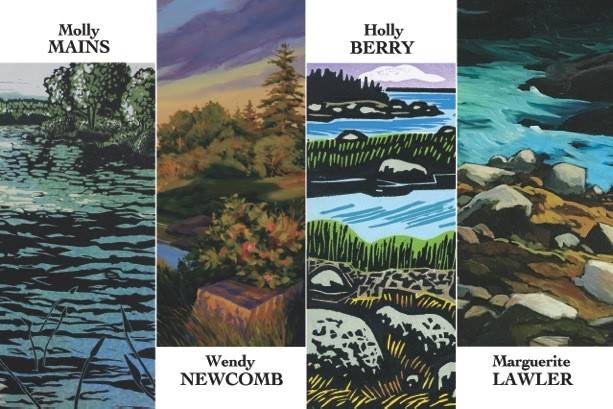 Holly Berry - "I love to compose the surface plane, to arrange visual elements in dynamic and stylized designs. Ideas for my work are informed and influenced by my immediate environment: the patterns, shapes and textures found in the natural world along with my interest in decorative art, textile design and and folk art. My approach to mark-making is graphic by nature and so I gravitate to the process of printmaking. As I cut my designs into the surface of a block of wood or linoleum, I simultaneously explore the negative and positive aspects of an image — all in reverse of the final print — trying to maintain a balance between light and dark. It is a deliberate and meditative experience. I am deeply satisfied by the act of carving. The direct and immediate expression of lines, shapes and textures with knives and gouges appeals to my love of making things with my hands and my appreciation for craftsmanship."
Holly Berry is an illustrator and block printmaker living in Waldoboro, Maine. A native of southern Maine, she earned a BFA in Illustration from Rhode Island School of Design and has illustrated many award-winning children's books, toys and products. Along with book illustration, Berry enjoys making relief prints of varied subject matter. Her designs are inspired by her immediate environment; the patterns, shapes and textures found in the natural world combined with her interest in textiles and decorative and folk art. Berry is a member of the Boston Printmakers and her work has been included in many juried and invitational shows throughout the country. She also teaches block printing and rug hooking workshops out and about and from her home studio, Winterberry Studio Workshop. She was recognized with an Individual Arts Fellowship in Printmaking by the Maine Arts Commission and her work is part of the 2017 Maine-Aomori Print Exchange between Maine and Japan.
Marguerite Lawler -
1988 MFA Painting, City University of New York, Bronx, NY
1979 BFA Illustration, Rhode Island School of Design, Providence, RI
When on location, Marguerite Lawler likes to observe, to gather information, to organize, and to develop the foundations of her paintings through small studies in oil and gouache. Her subjects are the wooded and watery environments of Maine; her focus is the effect of light on the landscape.
What most interests Lawler as a painter is the studying of the high contrast of shadows and the forms they create. She is not looking to paint the panoramic or infuse romantic sensibilities; rather, she looks to capture the austerity of the moment. In the studio, Lawler's studies are translated into large oil paintings on panel. She relies on these studies, her visual memory, and her intuition to create representational pieces. Lawler's visual experiences become the springboard for exploration and discovery, which evolves over time.
Recent Exhibitions:
2019 Elizabeth Moss Galleries, Falmouth, ME
2018 Coastal Maine Botanical Gardens, Boothbay, ME
2017 Thomas Memorial Library, Cape Elizabeth, ME
2013 Elizabeth Moss Galleries, Falmouth, ME
2009 Gallery 302, Bridgton, ME
2005 The Clown Gallery, Portland, ME
Recent Group Exhibitions:
2018 Elizabeth Moss Galleries, Falmouth, ME
2018 Arts in the Capital, Maine State House, Augusta, ME
2018 Hole in the Wall Studioworks, Raymond, ME
2018 Collect, Maine College of Art, Portland, ME
2018 Cape Elizabeth Land Trust Auction, Cape Elizabeth, ME
Molly Mains - feels more at home in Maine than in her native New York. She graduated from Colby College and later the University of Southern Maine and remained in the state to inspire middle school artists for 36 years. In 2011 she received the honor of Maine Art Educator of the Year.
During her teaching career she participated in numerous courses and workshops
concentrating on printmaking, book arts, and pastels. Printing is her love. Because of the varied steps required in all forms of printmaking and the unpredictability of the art form, excitement accompanies the entire process. Using her locale as inspiration, the Lakes Region of Maine, Molly immerses herself in the natural world of windblown fields framed with rock walls, evergreened forests, clear blue lakes and distant mountains.
By selling her work in a "vacationland," Molly's artwork can be found in many homes in
the greater New England area as well as at Gallery 302 in Bridgton, Maine. Her work
has been exhibited at Deertrees Theater and Cultural Center, the Maine Art Gallery in Wiscasset , the University of Maine in both Augusta and Portland as well as many other venues in the state.
Molly lives in Bridgton, Maine with her husband and devotes herself fulltime to painting and printing.
Wendy Newcomb  is a representational painter whose primary mediums include oil, gouache, acrylic, and mixed media. Organizations, businesses, schools and private individuals have commissioned her for her paintings, illustrations and murals. Her paintings have appeared in a number of publications, including L.L.Bean , Bayview Press, Maine Magazine, Lake Living, Old Cars Weekly, and Artists of New England.   She has taught adult education classes in painting, mask workshops, and has volunteered as a visiting artist at local schools and nursing homes. She is a member of the Maine Arts Commission and the Portland Museum of Art.
Recent Exhibitions
2019 Maine Botanical Gardens, Boothbay, ME
2018 Kennebunk River Club Annual Juried Show, Kennebunkport, ME
2018 Hole in the Wall two person show, Raymond, ME
2018 "Siblings Show", Maine Art Hill pop-up gallery, Kennebunk, ME
2018 Maine State House Show,Augusta, Maine
2017 Invitational Show, Archipelago Fine Arts Gallery, Rockland, ME
2017 "Four" Hole in the Wall Gallery, Raymond, ME
2017 Kennbunk River Club Annual Juried Show, Kennebunkport, ME
2016 Summer Show, three person show, Hole in the Wall Gallery, Raymond, ME
To see more of the work featured in Archipelago Fine Arts Gallery, go to our facebook page.
Located at 386 Main Street in Rockland, the Archipelago Fine Arts Gallery features artists who work with natural, coastal, and working waterfront themes inspired by living and creating art in Maine. Starting Memorial Weekend, both the store and gallery will be open seven days a week: Monday through Friday, 9:30 a.m. to 5:30 p.m.; Saturday, 9:30 a.m. to 5:00 p.m.; and Sunday, 11:00 a.m. to 4:00 p.m.